Listed below are some Closeout Items at Prices you will appreciate. Call/Text Brett Today for a Money Saving Appointment as these items will sell fast.
573-819-2416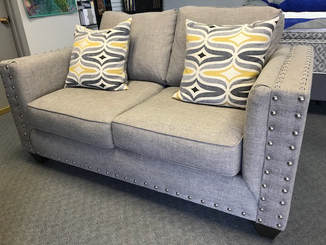 Paradigm Loveseat

Sold on Wayfair.com for $749

Our Closeout Price is $448

---
Catering to the home furniture and mattress needs of customers in Columbia, Missouri and other surrounding areas within a 50-mile radius, Columbia Discount Furniture and Bedding stands out as the preferred mattress store in Columbia, MO that folks come to for amazing deals on quality mattresses and furniture.
With a huge selection of mattresses of all kinds and sizes, there's certainly one that's perfect for your needs as well as your budget. We run promotions all the time to give our customers lots of chances to get amazing deals on various home and bedroom furniture.
As a family owned business, we take pride in providing top-notch personalized service that truly caters to your needs. When you come to us, we'll make sure to take the time to listen to your needs in order to provide you with outstanding options that help you make the better informed decisions on your purchases. Unlike other bedroom furniture stores, we do not resort to high pressure selling because for us, the best way to do business is to put our clients' needs ahead of our own.
Located at 1906 North Providence Rd., Columbia Discount Furniture and Bedding is the preferred furniture and bedding store for home owners, college students who want nothing less than great furniture and bedding choices at great prices.
To know more about our promos and products on offer, please call us at
573-819-2416
or email us at BuyNewBed@
ColumbiaDiscountBeds.com. You may also join us on Twitter:
https://twitter.com/ColumbiaBeds
and Facebook:
https://www.facebook.com/columbiadiscountbeds/
We're open to serve you Friday and Saturday
1:00 PM to 5:30 PM
.
---